CHARITY
Share
True Love Means Letting Them Go: Training Puppies in Service of Others
In the United States, approximately 500,000 service dogs are helping people.
The definition of selfless: skillfully training a puppy, only to hand him over to a new owner. That's what volunteer puppy raisers do through the United States Veterans Service Dog program.

In the United States, approximately 500,000 service dogs are helping people. Under the Americans with Disabilities Act (ADA), service dogs must be given access to almost everywhere their human handlers go. They make it possible for people with disabilities to live independently and overcome the challenges of day-to-day life.

What's the difference between service dogs and emotional support dogs?

Unlike emotional support animals, service dogs are highly trained to perform specific tasks for their owners. They provide more than comfort and companionship: service dogs bridge their owner's physical limitations by doing the work for them. This "service" grants them legal access to anywhere their owner goes, including malls, restaurants and busses, where emotional support animals aren't always welcome. They are not viewed as a pet, but a service partner. Service dogs are usually seriously focused on their owner and intently committed to their role.

To be considered a service dog by the Americans with Disabilities Act (ADA,) the dog's owner must have a limiting disability. The dog must be trained to recognize and respond to this disability with a specific task or action. All of these conditions must be met without causing any public disruption.

VCA Animal Hospitals is proud to partner with this initiative by providing medical care to these canine companions. In addition, some VCA caregivers have fostered trainee service dogs through each step of this inspiring journey.

Meet the puppy raisers

Christine Jackson spent last year training Rivera, who was ultimately placed with a veteran's family with a diabetic child. Rivera had to learn how to fetch juice, a glucometer, and phone to call 911. "Riv" can even alert the boy's parents of low glucose levels through the detection of pheromones. Christine cared for Riv with the medical support of the team at VCA Capital Area Emergency Surgery & Specialty Hospital, NH.

"Rivera is now with his person," said Chrstine, "and he's doing amazing at his job! He can even alert his person's mom when sugars get low. He even has his own Facebook page where we can follow his adventures."

"Riv took to the transition well, and we all miss him. I'm not currently raising a service dog, because I have two of my own personal dogs to train, but I am helping my mom who is a first time raiser. Once my young boys are trained, I'll definitely raise again."

"What these dogs are capable of doing is mind-blowing and amazing," said Dr. Jeanne Ficociello, VMD, MS, DACVIM. "For our staff to ensure they can physically do their jobs – we all feel great to be a part of that."

Janine Graham, CVT, raised puppy Hildago to be the service dog to a veteran suffering from PSTD. She understands the medical support these dogs provide is invaluable, but that it's the loyalty and love they bring that makes this program life-changing.

"After months of work, Hidalgo failed his medical 4 days before he was supposed to start his formal training," said Janine. "I still went to New Orleans for the 'Handing Over the Leash' event, and it was a cry fest. I was able to walk one of Hidalgo's siblings across the stage, and hand him over to formal training, and I couldn't have been prouder."

"We were asked to put together a PowerPoint of our time together for their eventual veteran, and that was heart-wrenching, as you reminisced about each slide, and set these beautiful pictures to music. So humbling and overwhelming at the same time."

A few weeks later, Hidalgo has been placed with a young veteran in Janine's hometown, where he has become the ambassador for the local General Store.

"I handed over Hidalgo's leash to the veteran that he's going to change the life of, and that was the part that got me," she said. "I'm OK with letting him go because he's going to change someone's life so drastically – and that's what I have always been so excited about and am so proud of."

"I get to see him weekly, and I'm happy to provide back-up support when his veteran needs 'puppy sitting,'" said Janine. "I still work with his training, to keep him sharp and focused. It is the perfect match, and I couldn't be more pleased."

"He helps me training my new charge. 'Lennox,' who is a Valentine's Day baby. Lennox is doing great on his training. I am grateful for all the things that Hidalgo taught me, and I feel I am doing even better with Lennox."

After Christine fostered a USVSD dog, she recruited Janine to taken on a leadership role as the New England Group Lead for the program.

"We presently have 4 pups in the group, and I get to support them on their journey -- which looks much different now!"

Due to the pandemic, USVSD has lost a significant amount of funding. Janine and her team have been creative with training and fundraising solutions, to prevent puppy raisers from absorbing all of the program expenses.

"They already give their heart. I am really trying to come up with funding so that they don't have to cover all food and medical care costs as well."

"We are hopeful, happy, and grateful to VCA for allowing us to pursue our passion, give back to our veterans, and fulfill our mission as a company."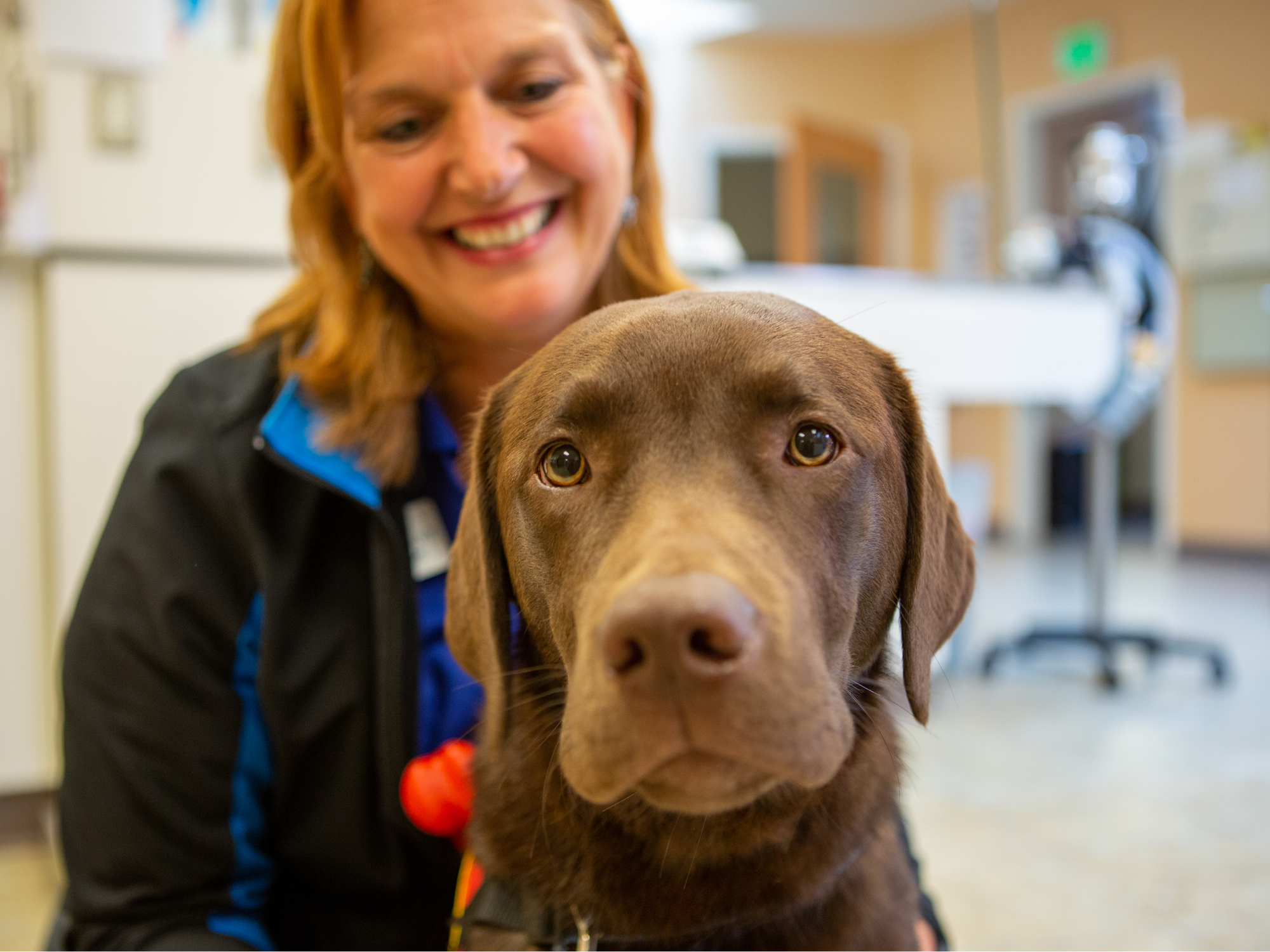 The myVCA Patient Portal gives pet owners easy access to online appointment management and reliable, personalized pet health information and recommendations directly from their pet's health care team. The myVCA Online Store makes it simple for VCA clients to subscribe to prescription refills and other pet health-related items recommended by their veterinarians. The individualized, expert pet care you have come to expect from VCA is available between visits, whenever and wherever you need it.
DVM
VCA Santa Monica
Share
Rivera even has his own Facebook page where we can follow his adventures.